No nasties! We pride ourselves on only using premium quality, free range, hormone & antibiotic free ingredients. Our sauces & marinades are made in house from scratch without preservatives or any nasty additives, everything that's listed in our ingredients is what's in your food, that's it!
We're always fresh, never frozen! Your meals are made to order so you never have to worry about the freshness of your food. We also use vacuum sealed containers for our home deliveries which removes the oxygen from the container maintaining the freshness for 7+ days.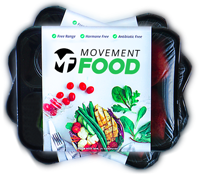 ---
Click your way to a fully-stocked fridge! We've made the Movement Food ordering process so simple, you'll wonder how you ever managed without it.

Promote
WE MARKET, YOU SELL

---
When you sell Movement Food, you're backed by our huge marketing budget! We'll shout your name from the rooftops – and by rooftops, we mean our massive email database & social media accounts.

---
We're a little picky when it comes to our stockists, partnering with brands that match our business ethos & want to grow together.
"Movement Food has been a great addition to our gym and stores, we started in Dec 2017 with only 3 meals, we've since expanded the range to 20+ meals & some snacks. It has such a great following, people come to our locations specifically to get their Movement Food fix. I love being able to rotate through a few different meals to keep our customers happy and coming back for more"
Andrew C - Owner of Maxximus & West Coast Iron